"Chikyu-Boshi"
 The word Chikyu-Boshi (its literary translation: Star Earth) is not found in a Japanese dictionary. It is the title of the song I created in March1991, a few months after the First Gulf War. Because my children were very young at that time, I was careful not to reveal my name in order to prevent them from being bullied. As Article 9 is indeed an essential part of the Japanese "Peace" Constitution, I should not have hidden my name.
I included *Article 9 into my song as I wanted people throughout the world to know what Article 9 was. Nonetheless, the Japanese government did not abide by it but upgraded the Defense Agency to the Defense Ministry to my disappointment.
The Defense Ministry should have been replaced by the Ministry of Protection Against Disaster, at which self-defense force members were to be trained to help people rather than to kill people.
The Japanese government provided more than US$ 9 billion as a financial aid to the US-led war efforts in 1991. In other words, Japanese nationals engaged in the war indirectly using the tax money. How terribly sorry I felt for Iraqi people! Then I pondered on how people on this planet could co-exist without fighting.
Human beings are not necessarily patient and it is common for us to incite conflicts. However, if Article 9 became the law of all countries and disputes that could not be resolved by politicians were dealt with by the U.N. judicial body, we could end the dispute.
Aiming at such a mature international community, I created an Article 9 song called "Chikyu-Boshi."
*ARTICLE 9 of the Japanese Constitution
Aspiring sincerely to an international peace based on justice and order, the Japanese people forever renounce war as a sovereign right of the nation and the threat or use of force as means of settling international disputes.
(2) In order to accomplish the aim of the preceding paragraph, land, sea, and air forces, as well as other war potential, will never be maintained. The right of belligerency of the state will not be recognized.

Listen、

Stop
---
Trial Listening of the Songs
"Chikyu-Boshi"
Music & Words: Fumiko Yokoyama
(Japanese)
Song: Tatsuhiko Komaki

Listen
(Esperanto)
Song: Junko Noda;  Translation: Belmonto

Listen
(English)
Song: AUGUSTO OSORIO/td>

Listen
(Spanish)
Song: AUGUSTO OSORIO

Listen
(Burmese)
Song: MAUNG MAUNG THANT

Listen
(Arabic)
Narration: Ajiz afaadasu

Listen
(German)
Miki Kusumoto;   Translation: Yuzuru Arakawa

Listen
"Chichi no Yuigon" [Father's Will]
Music & Words: Fumiko Yokoyama
Music & Words: Fumiko Yokoyama
Music Arrangement: Mitsuo Imabayashi
Song: Koyuki Matsuda & Tatsuhiko Komaki (Japanese)
This is the theme song of a nonfiction "My Father's Last Year" published by Nanpou Shinsha Ltd.

Listen
"Furikaereba" [When Looking Back]
Music & Words: Fumiko Yokoyama
Song: Fumiyo Yanagita & Tatsuhiko Komaki Accompaniment: Kanami Komaki

Listen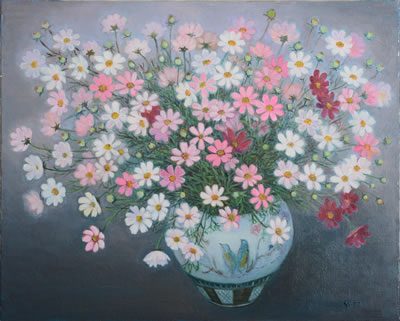 Drawing: Masako Yoshinaga
---
About CDs
In order to disseminate Article 9 across the world, we translated the Japanese text into various languages. Please order via E-mail or Fax by describing the CD title, your name, street address, phone number (fax number) and e-mail address. We will let you know how to pay upon receipt of your order.
| | |
| --- | --- |
| FAX | 0995-55-0190 |
| E-mail | yokoyama@9artikolo.com |
| TEL | 0995-55-0910 (From outside of Japan 81-995-55-0190) |
CD1. "Chikyu-Boshi"
Domestic Shipping Price: JY\2,000 (US$20) /Overseas Shipping Price: JY\2,500 (US$25)
Content:
"Chikyu-Boshi" (English)
"Chikyu-Boshi" (Japanese)
"Chikyu-Boshi" (Spanish)
"Chikyu-Boshi" (Burmese)
"Chikyu-Boshi" (Arabic)
"Chikyu-Boshi March"
"Chichi no Yuigon" [Father's Will] (Japanese)
CD2. "Chikyu-Boshi II"
Domestic Shipping Price: JY\2,000 (US$20) /Overseas Shipping Price: JY\2,500 (US$25)
Content:
"Chikyu-Boshi" (Japanese)
"Chikyu-Boshi" (Esperanto)
"Chikyu-Boshi" (Arabic)
"Chikyu-Boshi" (German)
"Chikyu-Boshi" (Spanish)
"Chikyu-Boshi March"
"Chichi no Yuigon" [Father's Will] (Japanese)
CD3. "Furikaereba"
Domestic Shipping Price: JY\2,000 (US$20) /Overseas Shipping Price: JY\2,500 (US$25)
Content:
"Chikyu-Boshi" (Japanese)
"Chichi no Yuigon" [Father's Will] (Japanese)
"Furikaereba" [When Looking Back] (Japanese)
---
About the Company
Name:
Chikyu-Boshi Ltd.
Address:
30-21-4 Kokubu Kiyomizu 1-Chome, Kirishima City,
Kagoshima Prefecture, 899-4304, Japan
Representative:
Fumiko Yokoyama
usiness Content:
Production and Sales of Songs
Business Objective:
We introduce Article 9 of the Japanese Constitution to people on this planet via songs, aiming that it becomes an international opinion and a universal law.
Phone No:
0995-45-5553 / 080-9247-1491
(From outside of Japan 81-995-45-5553 /81-80-9247-1491
Fax No:

0995-55-0190 (From outside of Japan 81-995-55-0190)

Email Address:
yokoyama@9artikolo.com
URL
http://9artikolo.com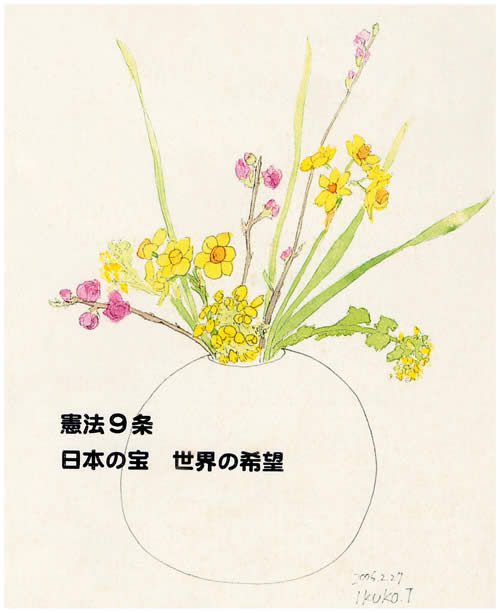 (Drawing…. Article 9, Treasure of Japan, Hope of the World)